Our Story
     Back Porch Orchestra started out as three friends playing acoustic gigs in the Triad. Jeremy Brady, Chris Reed, and Bonnie Reed first started playing together in the cover band "Beneath the Wheel." After the band's separation, the three began playing acoustic gigs and writing songs that reflected their love of  Americana and folk music. Back Porch Orchestra has since steadily evolved to become a popular wedding and corporate event band, playing over 70 shows annually for both local crowds within the Piedmont Triad as well as audiences in South Carolina, Georgia, Tennessee, Kentucky, Virginia, and Maryland. BPO has experienced several different lineups over the years before arriving at its most current arrangement. While the most common lineup of BPO comes as a five-piece, featuring a steady rhythm section, two electric guitars and four lead vocalists, the band also comes in iterations of 3 acoustic guitarists and vocalists, or a 4 piece Grateful Dead-inspired jam band. No matter the arrangement, it's always a fun show. 
     Bandleader and guitarist Chris Reed grew up on a steady diet of country, blues, rock, and jazz music. He's played in country, blues, and rock bands since the age of 18. The guitar is just a starting point for Chris - he is also proficient on the dobro, mandolin, and banjo, and teaches lessons on all four instruments. When he's not playing shows or teaching, he could be found playing at an open bluegrass jam, practicing, or supporting students at local open mics. Back Porch Orchestra is Chris's brainchild and he has done an exceptional job at leading the band down a successful path. Chris is a master of his craft not only in a musical context, but a professional one as well; he is an excellent musical coordinator regardless of the event, as he has played them all before. All of these qualities are what help make Chris one of the most reliable, talented, and dedicated bandleaders around. 
     Since the very first time Bonnie Reed sang in front of an audience, as a member of her mother's church at 10 years old, she has been flooring audiences with a voice that is a melting pot of the great vocalists by which she was influenced. Bonnie captures everyone's attention as soon as she graces the stage. Everyone knows Patsy Cline, Stevie Nicks, or Tina Turner's voice when they hear it - Bonnie's voice is no different. She can sing anything from classic hits of yesterday to the popular country and pop tunes of today with unmatched precision. Outside of BPO, Bonnie owns and operates a cleaning business and is a loving mother to two boys. Bonnie and Chris are married, and have been playing acoustic shows together for over 12 years. Their understanding of each other's musical nature on a deep level makes each performance extra harmonious - it's never a bad time when Bonnie and Chris are playing a show together.
    After playing on-and-off with BPO during the first half of 2008, Chris's brother, Scott Reed, officially joined the band. Scott spent several years as a studio bassist in Nashville. He now serves as a police officer and is also an extremely gifted luthier, frequently playing his own handmade basses during shows. It is rare when one finds a bass player as talented as Scott. Most of the time, he plays with a light touch, but on the rare occasion Scott gets flashy, the audience is left blown away. His understanding of music is impressive to say the least, and his bass-playing is a perfect complement to Back Porch Orchestra's sound.
    David Fraser joined on drums in 2014. David's drumming capabilities are rooted in a vast amount of experience in studio and live environments - his solid timing will ensure dancing is happening all night. He knows how to play drums with feeling and expressiveness, and never misses a cue. When not playing shows, David is working at the local airport repairing planes, or working in the sky as a pilot. David embodies all the qualities that a good drummer should have; his playing is the foundation for the rest of the band, and fortunately, Scott and David together become one of the tightest rhythm sections out there. They both play with incredible touch that only professional musicians have.
    In 2017, Jay Faires was brought onboard to play guitar and sing, filling the shoes of founding member Jeremy Brady and his successor, Jacob Danieley. Jay recently graduated Elon University with a degree in Entrepreneurship and minor in Music Production and Recording Arts, and is now playing music full time. His guitar playing has largely been influenced by the likes of Jerry Garcia (Grateful Dead), Angus Young (AC/DC), and Chuck Berry, as well as numerous funk and soul players from the 60s and beyond. His vocal style is a homegrown, raw high tenor that can roar on classic rock tunes, or lock in with the backbeat of new, funky hits with a loose feel. Jay is the man behind the band's website/social media presence (so give us a follow on insta!). Outside of BPO, Jay focuses on recording clients at his home studio as well as maintaining, repairing, and modifying guitars.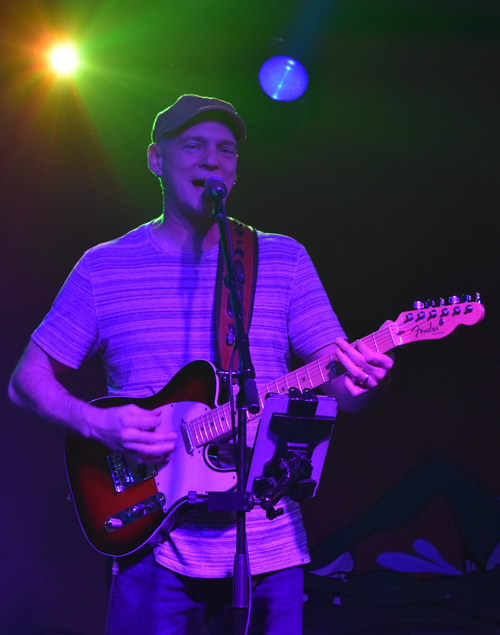 Guitars - 
Fender American Deluxe Telecaster
Fender American Standard Telecaster
1996 Gibson SG Standard (cherry)
Martin Acoustic
Fender Standard Stratocaster (w/ Floyd Rose)
Amp - 
Fender Bluesbreaker 15 Watt
Pedals -
Pedaltrain board
Line 6 G30 Wireless
Boss MS-3 Looper/Multi-FX
Wampler Pinnacle
Wampler Velvet Fuzz
JHS Morning Glory Overdrive
If there were one guitar to define Chris Reed, it would be a Fender Telecaster. Chris raves about the versatility of these guitars; armed with a Seymour Duncan Hot Rails in the bridge position of his main axe and a reliable small tube combo, Mr. Reed never fails to deliver searing hot licks through great tone.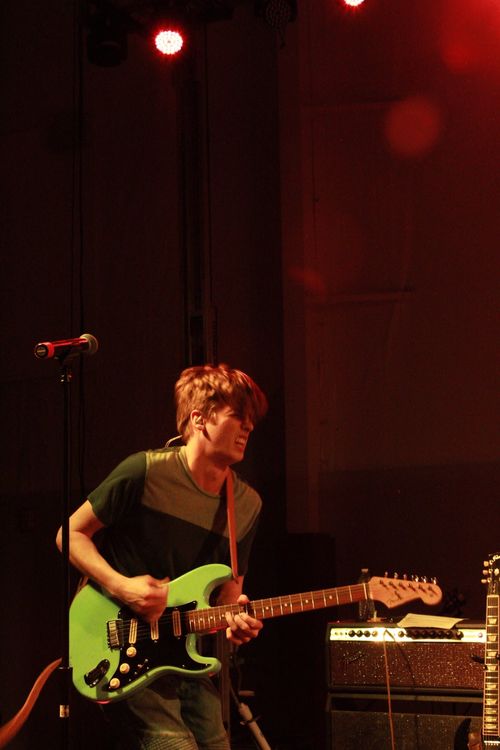 Guitars -
1993 Gibson SG Standard (Black)
2012 Paul Reed Smith Studio (Faded Blue Burst)
2014 Paul Reed Smith "Paul's Guitar" (Midnight Blue)
1998 Paul Reed Smith Standard 22 (Strawberry Pearl)
2008 Gibson Les Paul Traditional
2012 American Standard Telecaster (3 Tone Sunburst)
2018 Fender Partscaster (as seen in photo)
2018 Homebuilt SG "JerryCaster"
2001 Taylor 714-CE
1957 Martin D-28
Amps - 
1975 Fender Twin Reverb (head conversion, purple)
1979 Mesa Boogie Mark IIA head (bubinga enclosure)
Vox AC15 Combo (red)
Vox AC4 Combo (tan)
Fender Blues Jr. (lacquered tweed)
Paul Reed Smith Model H
Cabs/Speakers - 
Fender Twin Reverb cab, original Fender speakers
TRM Cabs Jerry Garcia-style "hard-truckers" cab

loaded with a late 70s JBL K120 speaker

Carvin 212V cab
Case - 
Enki USA AMG-2 Two-Space Electric Guitar Case
Pedals/Signal Chain - 
Friedman Tour Pro 1530 (board)
Line 6 G10 Wireless >
Ernie Ball VP Jr Volume Pedal >
Fairfield Circuitry Accountant Compressor
Slash Signature Wah >
Boss TU-3S Tuner >
Puzzlesounds 8-Channel Programmable Channel Switcher

Loop 1: EP Boost
Loop 2: Wampler Black '65 > Fairfield Barbershop
Loop 3: 3Leaf Octavbre
Loop 4: 3Leaf Wonderlove Env Filter
Loop 5: Bogner La Grange Overdrive
Loop 6: One Control Baltic Blue Fuzz

Keeley SuperMod Workstation (reverb/phaser) >
JHS Panther Cub Delay >
American Loopers patchbay >
Out to Amp
DJ Gear/Sound/Mics:
PA: 

QSC KW153 Powered Speakers
QSC K12 Powered Monitors

DJ:

Macbook Pro w/ Serato Pro
Pioneer DDJSX2
Pioneer HDJ-1500 Headphones

Microphones

Sennheiser e835 (Vocals)
Shure Beta 57 (Vocals) 
Shure SM58 (Vocals)
Sennheiser e609 (Guitar)
Audix I5 (Guitar)
There's a lot that goes into creating a good, reliable live rig. Personally, my rig is composed of many ever-changing components, but I have a couple main focuses. Firstly, I'm a dedicated deadhead and am a huge fan of Jerry Garcia's guitar tone in particular. Most of the time I've spent playing music has involved studying Jerry in one way or another. I've been able to get amazing tone recently after the purchase of the 1979 Mesa Boogie Mark IIA, (which appears in many of the photos on the left). Secondly, an easy-to-operate pedalboard is absolutely essential to have when playing in a band that performs such a large selection of cover songs. 
The Puzzlesounds looper is set up in a way that always keeps the signal traveling through at least one active pedal. I hit my amp input hard, but keep the volume on the amp turned down overall. This seems to make my playing more dynamic at a lower volume. The looper is amazing, as it allows me to immediately switch pedals with the touch of a single button. I have 4 stages of drive - clean, boosted clean, dirty (overdriven), and fuzz. it's easy and really life-changing to acquire a tool like a programmable looper.
My signal always runs through a Fairfield Circuitry Accountant compressor, which never gets turned off, ever. The ratio is at 0, pad at 1, and the volume just below halfway. 
When delving into Grateful Dead tone specifically, there are a few things I've paid attention to with my rig. The important thing to note is that it's relatively impossible to get all of Jerry's gear in true vintage format, so often we have to settle for modern re-interpretations of what he used. While the amp I found to be essential to buy vintage, I have been able to nail some great Jerry tones out of my pedalboard without even specifically building it to sound like Jerry. The only "Jerry-specific" pedal on my board is the 3Leaf Audio Wonderlove. 3Leaf has done a great job of emulating the smooth sweep of a classic Mutron III envelope filter.
On the guitar side of things, I'm a PRS fanboy, but you'll often catch me with my trusty 1993 Gibson SG or my surf green partscaster. As a Jerry Garcia fan, it's important (but not required) to have a middle pickup, so I have been favoring my PRS Studio and Strat recently to deliver any necessary Grateful Dead tones. The Seymour Duncan vintage rail pickup in the middle position of the Strat does wonders for getting early 70s GD tone.
As far as mics go, I sing into a Shure Beta 57 most commonly and mic my amp with a Sennheiser e609, sometimes substituting that for an Audix I5. Back Porch plays through a Behringer X-Air console, allowing us to listen to our mix anywhere in the venue before the event and tweak it to perfection using the app on our phones or tablets. Monitors for the band are QSC K12s, and our mobile front of house rig includes 2 15 inch Peavey mains and 2 18 inch subwoofers.